2019 Eric Mollart Memorial Trophy
28 September 2019
| Position | Competitor | Finish | Time A | Time B | Time C |
| --- | --- | --- | --- | --- | --- |
| 1 | Justin Snow | 20:45:52 | 19:22:48 | 18:17:34 | 20:45:52 |
| 2 | Geoffrey Foster | 19:53:21 | 18:43:07 | 19:53:21 | &nbsp |
| 3 | Graham Phillips | 20:12:24 | 18:28:36 | &nbsp | 20:12:24 |
| 4 | Roger Shepherd | 20:37:26 | 20:37:26 | &nbsp | 19:30:00 |
| 5 | Richard Scott | 19:51:42 | &nbsp | &nbsp | 19:51:42 |
Organiser's report
As seems to happen quite frequently on these night events, what seems on paper to be a fairly straightforward event proved quite difficult for the five teams who participated on this year's treble twilight event.
We chose three sites which were all around 10km from the start expecting people to get good signals (which they did) and good bearings (which some did!) from the first transmission and expecting most competitors to be making their way into their first site around 6pm, in daylight.
Tx A (Mark Coventry) was situated just south of Penn House (the residence of Lord Howe) in thick rhododendron bushes accessible after a short 200 metre run up from the nearest road.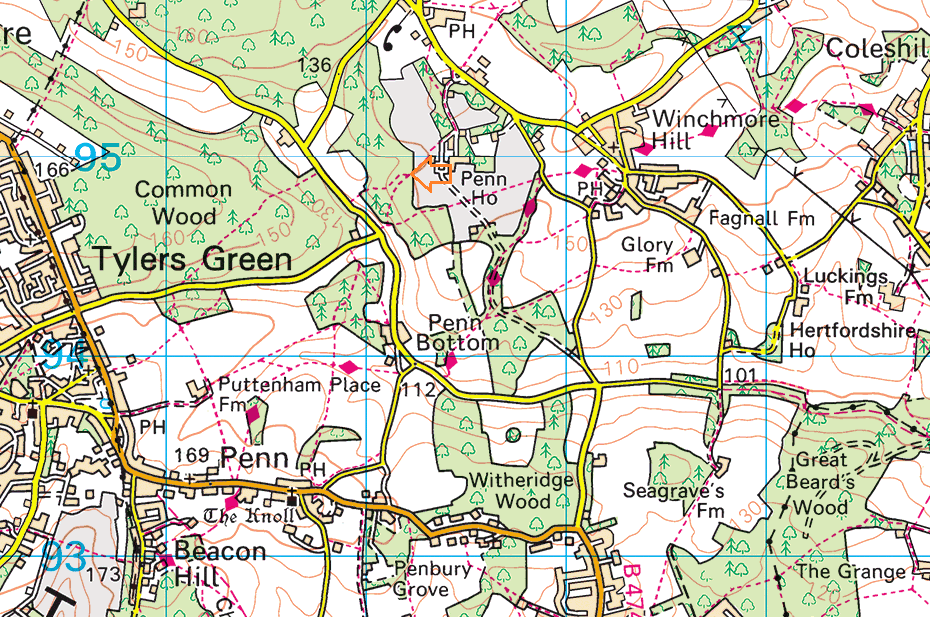 A simple quarter wave aerial and earth stake meant once teams had decided that he was indeed in the small piece of innocuous looking woodland on the edge of the map, he should have been quite easy to find...
Tx B (Steve) was at Hampden (see below) and also had a short run-in and a simple aerial wire.
Tx C (Me – Peter) was situated on the escarpment overlooking the Thames about 500 metres South of the Thames opposite Little Marlow and 500 metres run from the nearest road. We expected the majority of competitors to come to Tx C first (in daylight) so this had a longer aerial and a counterpoise earth connected to a fence.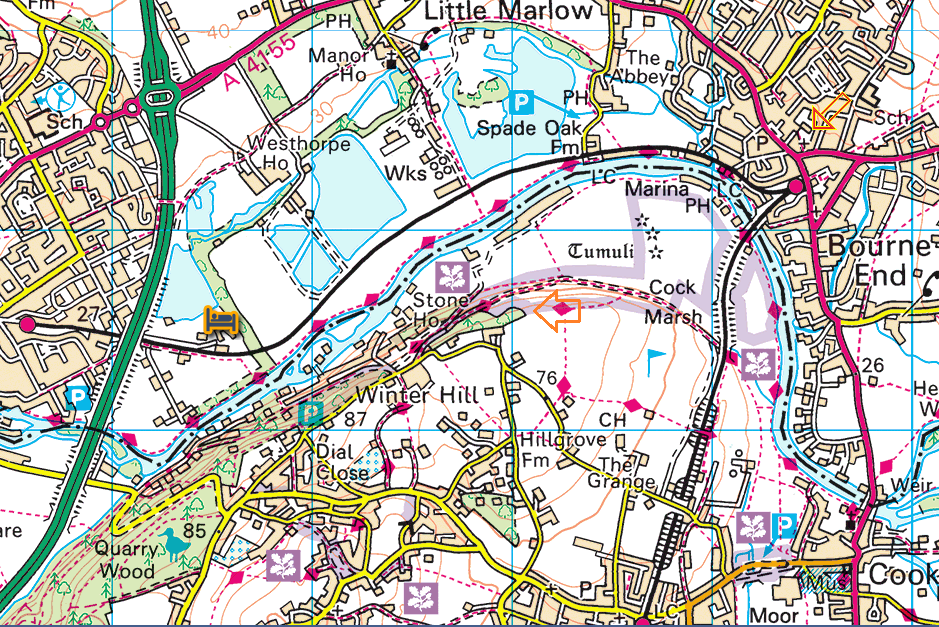 By 1830 (an hour and a half into the event) it seemed that our expectations were completely wrong! Justin had found Steve, Graham had found Mark, and no-one was around at tx C! What was actually happening was that Roger (with Alan navigating) had mysteriously poor bearings which not only put him initially onto the wrong side of the Thames but then diverted him away from the transmitter even when he was less than 300 meters away. Richard – who had also aimed at C first, had parked about 1.5km away which gave him and his navigator Tim a very long run-in. Local telephone wire and a more distant overhead power line seem to have been the main culprits of poor bearings.
With increased frequency of transmissions and there was a steady but still slow arrival of competitors at sites and it became apparent that only Justin and Geoff had a chance to get to all three – with Tx C as their last site. Justin arrived around 8.20pm and proceeded to beat up the undergrowth around me and then wandered off to the far end of the aerial muttering unreportable things, whilst I chose to 'hunker down' and await the potential arrival of Geoff in order to make it a fair contest between the two of them. The rain (which had mercifully stayed away for most of the contest) started to fall...
Finally at 8.45pm Justin found his way back along the aerial to me and clocked in to win the event. Geoff regrettably although close, was unable to get into the vicinity in time to find me.
So congratulations to Justin for winning yet another trophy this year, a big thanks to Steve and Mark for running the other tx's, and my condolences to those of you who for whatever reason did not manage to find all three tx's.
Peter Lisle
Station B Operator's Report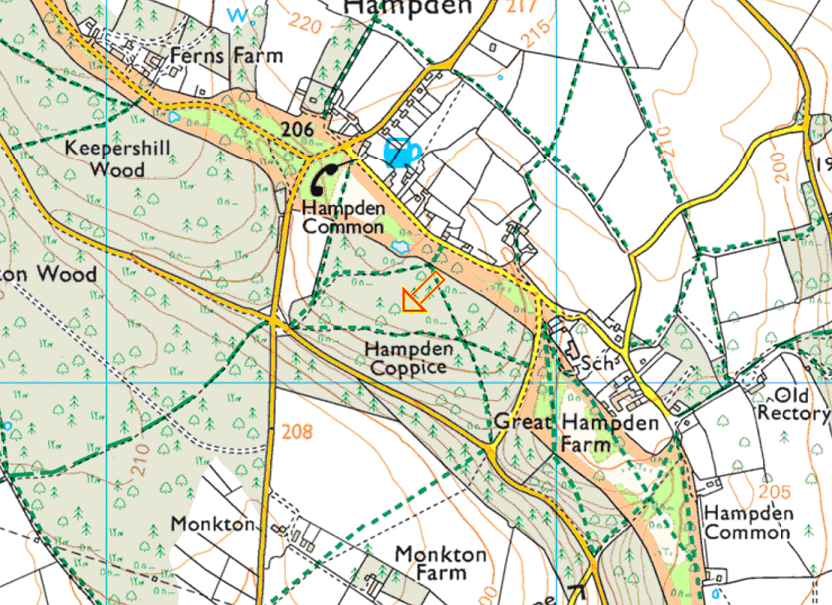 Based on the predicted weather I decided to keep it very simple, so decided to use Great Hampden about 8km from the start.

Parked in the pub car park just to the north of the site. The only real problem would have been deciding which block of wood I was in. I made no effort to hide and simply sat under a tree. I find it very difficult now to sit down for extended periods and need to get up and walk round at regular intervals. I also wanted to be able to use my umbrella, if needed, to keep myself and the kit dry. Since I was close to the start, I decided to put the aerial up when I got on site, nothing complicated, short stretch of wire about 10 feet up and an earth stake. Seems like the signal at the start was fine. Was all ready to go by 4.15pm. You never know what order competitors choose, so could have a rush whilst it was still light, or a quiet evening and a rush at the end. As it happened only Justin came to me first, arriving on site just after 6pm, having luckily parked fairly close for the 5:30 transmission. Sudden flash of torch light may me sit down again and I thought Justin would spot me very quickly as his torch swept over me a couple of times. However, he didn't spot me and wandered away returning at the next transmission 10 minutes later. In constant touch with Peter and it became obvious that people were struggling, so we decided to go to 10 minutes transmissions at 7pm. Normally when it's fully dark you see torches well before anyone is close, however Geoff surprised me by suddenly appearing about 8pm. Unfortunately for Geoff he wasn't sure where his car was, so got delayed leaving me.

Steve Stone