2019 National Qualifier No. 2
28 April 2019
The start location for this event was at Birch Green, so that stations A and B were roughly equidistant from the start. Richard, operating Tx A was located just off the Stour Valley Path at Wormingford, and yours truly, operating Tx B, in Shut Heath Wood near Great Braxted. When searching for potential sites, there was little of the green stuff about, so we opted for reasonable run-ins, without the need to drive long distances. (A car rally in the Tendring area had also put that area of the map off-limits.)
The weather forecast for the weekend wasn't good; strong winds and showers on the Saturday with showers continuing into the Sunday. (rather like last year's final !!) So aerials went up Sunday morning. With spare time I tied an extra length onto a metal fence but in practice this had little effect.
At 12.00 Richard and I were pleased to be able to hear each other's transmissions from our hides so a check transmission to the start was deemed unnecessary. So all ready to go when 13.20 arrives.
At 13.14 I received a message from Richard – a herd of cows had been let into the field where he was. So I think he moved his hide slightly. Still, cows have never been known to thwart a hardened df-er before.
So, underway, and no panic messages from the starter. At about 2.15 I was surprised to see and hear Gary approaching, particularly as the run in through the wood to the far end was over mixed terrain and winding footpahths. However, by 2.17 he was on his way to Tx A. Richard reported that Geoff had checked in at 2.33. At this stage we were wondering if we had made the event a bit on the easy side. Roy was next seen near Tx B, but he overshot and spent some time exploring a fishing lake and the huts alongside. He was convinced I was in one of the huts due to a large frame aerial being wound around one !! Sorry, but no ! Eventually he clocked in with the usual words of greeting. Richard soon reported that Graham had arrived, and Phil came in to Tx B just before 3 pm.
A lull in proceedings was expected for inter site journey time, but at 3.05 Richard reported that Gary had just clocked in, and was about to top up his daily steps with a 5km run. With Gary probably winner, the race was on for second place. John had arrived at Tx A at 3.15 and it was hoped he would still have the time to get to Tx B. With no reports of further arrivals by the 4.00 fixed transmission, we were wondering where everybody had got to. Then some sudden crashing about and Geoff came in to Tx B just before Graham. Phil soon arrived at Tx A, but by closedown we were surprised that Roy had gone fishing in the wrong place and John was just about 100m from the finishing line.
Apart from the odd spot of rain, we did manage to keep dry, but it was a chilly afternoon to be sitting in a wood with only a few birds or bullocks for company. Than you to all who came and took part. Well done to Gary and Geoff, 1st and 2nd, who qualify for the final. I think everybody enjoyed themselves.
Tim Parker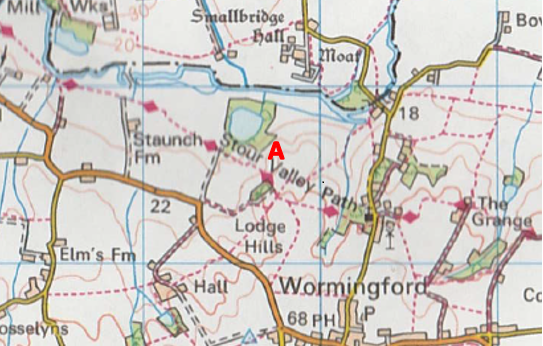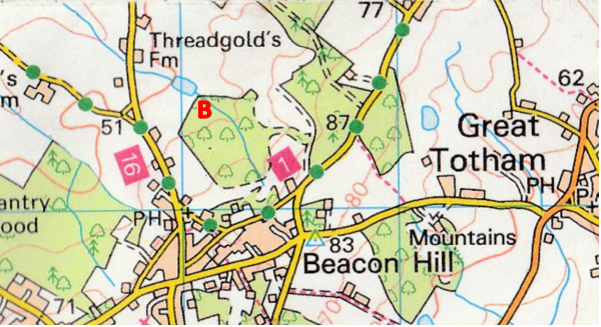 | Position | Competitor | Finish | Time A | Time B | Between |
| --- | --- | --- | --- | --- | --- |
| 1 | Gary Parker | 15:05:11 | 15:05:11 | 14:17:11 | 00:48:00 |
| 2 | Geoffrey Foster | 16:00:27 | 14:33:02 | 16:00:27 | 01:27:25 |
| 3 | Graham Phillips | 16:00:47 | 14:45:17 | 16:00:47 | 01:15:30 |
| 4 | Philip Cunningham | 16:08:44 | 16:08:44 | 14:52:58 | 01:15:46 |
| 5 | Roy Emeny | 14:42:14 | | 14:42:14 | |
| 6 | John Mullins | 15:15:42 | 15:15:42 | | |